Although it is known that the origins of white varieties go back to antiquity, researchers know that the ancestor of all current, white varieties was a red variety. What they didn't know was how the evolution took place and how the white varieties as we know them today were born.
Recently the answer was provided by a team of researchers from CSIRO (Commonwealth Scientific and Industrial Research Organization), who, building on the results of Japanese researchers – who showed that the production of wine pigments is due to specific genes that show a difference between white and red varieties – took the research even further and discovered a series of rare mutations that these genes underwent, resulting in the first white grape variety, the ancestor of almost all of today's white grape varieties.
Some white varieties whose "dark-skinned" siblings are cosmopolitan varieties and monopolise the world of viticulture are described below.
It is known that all red varieties grown in Cyprus, except Alicante Bouschet, can produce both red, rosé and white wines. In this article, we will not examine the well-known process of white vinification of a red variety but the completely new varieties that have resulted either from hybrid crossing, natural mutation, or even grape pips.
Cabernet Blanc
Cabernet Blanc is a white German-Swiss variety that came from the hybrid crossing of Cabernet Sauvignon and an undisclosed hybrid grape variety, bred by Swiss grape breeder Valentin Blattner.
Although it was created in 1991, it is only in recent years that it has begun to gain producers' confidence and be cultivated in commercial vineyards. Until recently, it was grown in experimental plantations in the Netherlands and commercially, mainly in the Palatinate region of Germany.
The Swiss geneticist Valentin Blattner began creating new wine varieties to make them resistant mainly to fungal diseases, using varieties of Vitis Vinifera and an unknown disease-resistant variety known in Germany under the generic name Resistenzpartner.
In addition to its resistance to fungal diseases, the Cabernet Blanc variety is also highly resistant to frosts. Despite all positive aspects, it has inherited the disadvantage of coulure or shatter and that of small berry size, although to a lesser extent than our Cypriot Maratheftiko.
During the summer of 2018, I was lucky enough to taste a Cabernet Blanc, which surprised me positively with its fabulous floral and fruity aromas and its harmonious taste.
Due to its reputation as a Cabernet, it is a variety that may gain many fans in our country as well.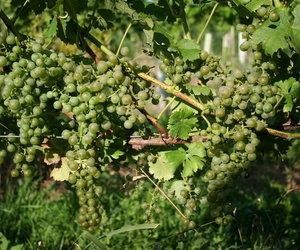 Merlot Blanc
Merlot Blanc appeared as a variety in the Bordeaux region from a natural crossing of the white Folle Blanche variety of the Cognac region and the Merlot Noir.
It first appeared in 1891 and was considered to be a white-skinned mutation from Merlot Noir similar to the natural, white-skinned mutations from Pinot Noir (Pinot Blanc), Grenache Noir (Grenache Blanc) and Carignan noir (Carignan Blanc).
Later DNA analyses carried out in Davis – California, by the viticulturist Carole Meredith proved that it was a crossing between the Folle Blanche and Merlot Noir varieties.
Although Merlot Blanc plantations are scarce, Merlot Blanc is still allowed for the production of Appellation d'Origine Contrôlée (AOC, "controlled designation of origin") wines of several regions of Bordeaux, including the general AOC Bordeaux (but not for Bordeaux Supérieur wines). Here, Merlot Blanc may be used up to 30% blended with Semillon (which must make up at least 70% of the blend).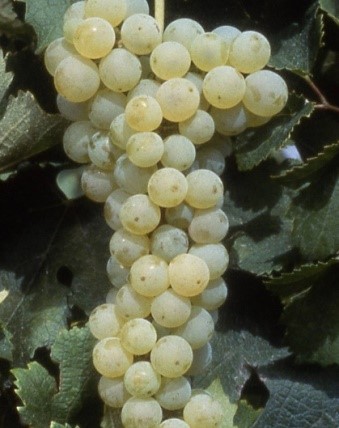 Carignan Blanc
This is a white-skinned mutation of the red Carignan variety originating in Spain, mainly in Rioja's Old School. It was transferred to Algeria from Spain, where it was the main wine export variety to France. Slowly, it was planted throughout southern France, making it the most planted variety in the country. Due to overproduction and France's so-called "wine lake", planting and expansion were terminated.
Like Carignan Noir, both Carignan Blanc and Carignan Gris are highly susceptible to downy mildew and powdery mildew. It also inherited all the other characteristics of its "dark-skinned" brother, such as large leaves, vigour, productivity.
Although a relatively neutral variety, it develops some incredible and interesting Chardonnay characteristics after a few years in the bottle.
Grenache Blanc
The Grenache Blanc variety (also known as Garnacha Blanca) is a mutation of the Grenache Noir variety from northern Spain. It is a variety that is gaining in popularity because it produces wines with very intense flavours, high alcohol content and a velvety style similar to that of Chardonnay, especially when aged in oak barrels.
Cygne Blanc (White Swan)
The Cygne Blanc variety was named after the Swan Valley where it was discovered in 1989 growing in a garden in Baskerville, Western Australia, by Sally Mann (wife of winemaker Dorham Mann and daughter-in-law of Jack Mann) who noticed that a stray vine had leaves similar to Cabernet Sauvignon and white grapes.
This variety likely came from the seeds of Cabernet Sauvignon grapes. Unlike vine cuttings which are identical to their parent vines (clones of the parent vines), vines propagated from seedlings of any variety are distinct varieties with diverse genetics from the parent vine.
In the case of Cygne Blanc, the grapevine likely inherited its white berried trait from its grandparent, Sauvignon Blanc, that crossed with Cabernet Franc to produce the well-known and famous red berried Cabernet Sauvignon.
According to Jancis Robinson, Cygne Blanc produces white wines that have no apparent characteristics of Cabernet Sauvignon apart from a slightly herbal, leafy character that can emerge in some examples of the grape. Other wine writers describe the grape as exhibiting some traits reminiscent of a white Hermitage from the Rhône Valley and of Sauvignon Blanc from warm climate wine regions.
Dr Andreas Emmanouel